Reports
Human Rights Campaign to Save Al-Qahtani's Life after Isolation in Al-Ha'ir Prison
The Twitter account of prisoners of conscience confirmed information that Wing (8A) located in the correctional facility of Al-Ha'ir prison in Riyadh, in which there are a number of political and human rights detainees, including Dr. Mohamed Fahd Al-Qahtani, has cases of Coronavirus despite the announcement of the authorities that detainees in Al-Ha'ir prison had taken the Corona vaccine at the beginning of this April.
Maha Al-Qahtani, the wife of Dr. Mohamed Al-Qahtani, said, "We are concerned about the isolation of Mohamed and his lack of communication, and the most worrying is the lack of response from officials. Last year all prisoners of conscience were transferred in Al-Ha'ir Correctional Facility to Wing 8A and Al-Hamid was isolated and after a while, we discovered his death".
Maha called on human rights organizations around the world to declare their solidarity with Dr. Al-Qahtani and to demand the Saudi authorities to release the infected detainees for treatment instead of leaving their families with no information until they hear about their death.
Maha Al-Qahtani tweeted saying, "Today is the 12th day of the interruption of news of my husband, Dr. Mohamed Al-Qahtani, who is infected with the Coronavirus, and officials have not responded to us so far, and we do not know why this silence".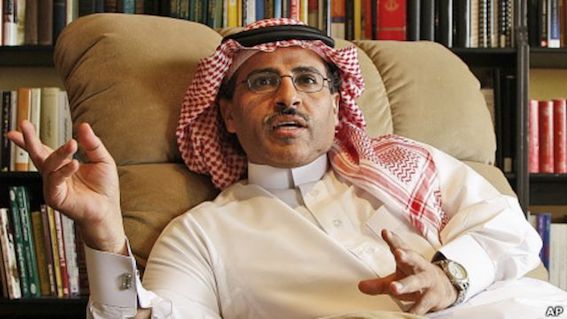 Human rights reports stated that Dr. Mohamed Al-Qahtani had contracted Corona two weeks ago and was isolated from the rest of the prisoners in the ward in Al-Ha'ir Prison, without disclosing information about his situation, or how and where he receives health care.
Dr. Mohamed Fahad Muflih Al-Qahtani was born in the mid-sixties. He is a professor of economics and a Saudi political activist and one of the founding members of the Association for Civil and Political Rights in Saudi Arabia.
He was arrested by the security forces of Saudi Arabia, and on March 9, 2013, he was sentenced to 10 years imprisonment and a further 10 years travel ban, after being charged with several charges related to his human rights activities in "HASM" trial.
In 2018 he was awarded the Right Livelihood Award, with other imprisoned activists Abdullah Al-Hamid and Walid Abu Al-Khair, in recognition of "their visionary and courageous efforts, guided by international human rights principles, to reform the political system in the Kingdom of Saudi Arabia." The award was received on his behalf by his son Omar Al-Qahtani.
Dr. Al-Qahtani was among 20 human rights activists who began a two-day hunger strike to protest the imprisonment of 11 activists in November of 2011. Al-Qahtani and a number of human rights activists also demanded that petitions be submitted for the public trial of detainees of human rights organizations, while improving conditions of detention, and respect for freedom of expression and assembly within Saudi Arabia.
In October of 2009, Al-Qahtani participated in establishing the Saudi Organization for Human Rights, the Association for Civil and Political Rights in Saudi Arabia (ACPRA) with ten other human rights activists in June 2012, and he began his work in this organization.
On February 5, 2011, Al-Qahtani stood in solidarity with Women demonstrating in front of the headquarters of the Saudi Ministry of Interior in central Riyadh, to demand the release of their men imprisoned in Saudi prisons, where he was the media spokesperson for their campaign.
He was also known to participate in all events and campaigns calling for the improvement of human rights conditions in Saudi Arabia
Together for Justice organization announced its solidarity with the Al-Qahtani's family, and called on the authorities in Saudi Arabia to be transparent and communicate with his family in order to ensure his safety, and to provide appropriate health care for him and all prisoners of conscience and human rights activists in Saudi Arabia.
More: Saudi Arabia Punishes a dissident for contracting Coronavirus