Reports
Saudi Arabia Just Took Over Golf.. What Is Next?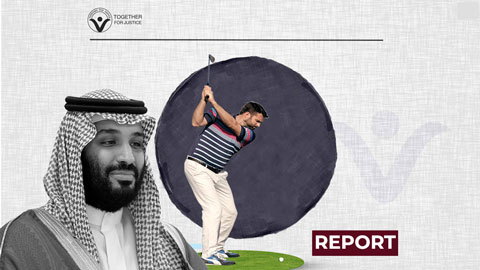 In a controversial move, the PGA Tour and its Saudi-backed rival, LIV Golf, have suddenly unveiled a plan to merge. The two golf tours have been at each other's throats for years before the Public Investment Fund (PIF) headed by Saudi Crown Prince Mohammed bin Salman (MBS) completely took control over the Golf, raising the question: What is next for MBS to sportwash his record?
The two entities signed an agreement that would combine the PGA Tour's and LIV Golf's commercial businesses and rights into a new, yet-to-be-named for-profit company. The agreement includes DP World Tour, also known as the PGA European Tour.
The Saudi regime was able to thwart all attempts by the PGA Tour and the DP World Tour to oppose the Saudi-backed LIV Golf Tour and the Saudi Arabia's sportswashing attempts to cover up its crimes and its poor human rights record. After two years of litigation, the Kingdom succeeded to silence and force the two golf tours to join it.
PGA Tour commissioner Jay Monahan earlier said the league was not going to be able to afford the ongoing legal battle against LIV Golf and its financial backer, the Saudi Arabia.
"We cannot compete with a foreign government with unlimited money. This was the time. … We waited to be in the strongest possible position to get this deal in place."
The statements of Monahan, a strong critical voice against the Saudi-backed tour, came two days after the landmark deal between the PGA Tour, DP World Tour and Saudi Arabia PIF to merge commercial operations under a new for-profit entity was announced.
The LIV Golf is backed by the Saudi Arabia Public Investment Fund (PIF), an entity controlled by Saudi Crown Prince Mohammed bin Salman. Critics of LIV have accused PIF of "sportswashing" by using the league to distract from the kingdom's history of human rights violations.
After literally taking over pro golf, the controversial kingdom also took its biggest steps yet to taking over soccer. Real Madrid's Ballon d'Or winner Karim Benzema has signed for Saudi Arabia's Al-Ittihad for two years starting next season for £160m.
Benzema will join his former Real Madrid teammate Cristiano Ronaldo in the Gulf kingdom after the five-time world player of the year moved to Al Nassr following last year's World Cup.