Reports
Save the Life of Saudi Reformist Prisoner Ibrahim Al Yamani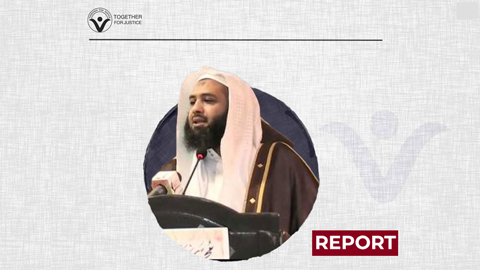 The "Together for Justice" organisation has warned of the threats to the life of the detained preacher Dr. Ibrahim Al-Yamani inside Al-Ha'ir prison, which is responsible for any harm he may be exposed to.
The prison administration had transferred Al-Yamani to another cell earlier this week, holding four extremists who had previously threatened Al-Yamani several times. Despite Al-Yamani's plea to the administration more than once to protect him from these extremists, all his requests were ignored and he was transferred against his will.
The Saudi academic and jurist Ibrahim Hayel Al-Yamani was arrested about four years ago. He was among the detainees of the September 2017 campaign, which targeted scholars, thinkers, academics, dissidents, activists and some potential opponents of the country's de facto ruler, Crown Prince Mohammed bin Salman, during whose reign the suppression of freedom of opinion and expression spread more than any other time.
As usual in the Saudi judiciary, Al-Yamani is now being tried on charges he did not commit and fabricated crimes, and the main reason is that he was advocating societal reform and the promotion of democratic principles, which are rejected by the current regime in Saudi Arabia.
Al-Yamani holds a Ph.D. in criminal legislation and a master's in jurisprudence. He is a faculty member at Taibah University, a legal advisor at the same university, a member of the appeals committee in the municipal elections previously, a former mufti at the Prophet's Mosque, and a former faculty member at "Mohammed Bin Saud".
Al Yamani was first brought before a judicial court in September 2018, a year after his arrest, during interrogation sessions in which he was subjected to psychological and physical torture and forced to confess to the charges against him.
Since then, all of Al-Yamani's sessions have been held in secret, like the rest of the detainees in that campaign, without the presence of any impartial monitoring body, and even without his lawyer, thus depriving him of his legal right to self-defense or assigning a representative to do so.
Over the course of those sessions, the Public Prosecution demanded that the most severe penalties be imposed on the detainees in these cases, and even demanded the execution of a large number of them, without providing evidence that they had committed any crime or even disclosing the nature, nature and details of those crimes.
Legal violations and transferring him to another cell where someone threatens to kill him are not the only violations that Al-Yamani has been subjected to, but since the beginning of his arrest he suffers from harsh and inhuman conditions of detention.
He is deliberately deprived of his most basic rights, such as leaving the cell and communicating with his family, and with the beginning of the Corona pandemic. Al-Yamani and other detainees were denied contact with the outside world or receiving visits from the family, in addition to exposing him to medical neglect, which contributed to the deterioration of his health.
According to private sources, Al Yamani is subjected to severe beatings and brutal torture, sometimes causing severe injuries that are difficult to live with, as happened about two years ago when some warders beat him, resulting in a broken metatarsal.
Al-Yamani is exposed to a clear violation of human rights laws and treaties, and a clear contradiction between reality and Saudi official statements claiming reform and pursuit of citizens' interests and the elimination of medieval tyranny. Therefore, if the regime is sincere in its claim to respect human rights, immediate and unconditional release must be made for all prisoners of conscience and opponents.